The sustainable, healthy
solution for a lost tooth
Fast Healing. Optimum Biology. Long Term Success.

Téléchargez notre guide d'introduction de l'implant dentaire Patent™.
Patent™Roadshows across Europe
Find out when Zircon Medical will be in your area with the
Patent™ Roadshow and register for the event.
Optimum Biology
With the Patent™ Implant you achieve a soft tissue seal that protects the bone and reduces marginal bone loss.
Healthy soft tissue is the requirement for peri-implant health. Zirconia has proven to accumulate less plaque than other materials.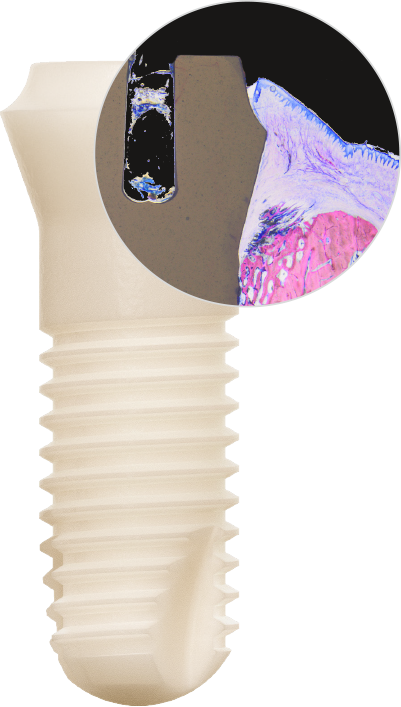 Photograph courtesy of Dr. Schüpbach
Photograph courtesy of Dr. Schüpbach
Fast Healing
The fibrin network formation on the surface is the prerequisite for contact osteogenesis that reduces the healing time.

The blood clot starts to build the fibrin network on the Patent surface within minutes after exposure.
Long-term Success
The yttria-stabilized zirconia, in combination with the patented manufacturing process, gives strength and optimal surface properties. The tissue level design eliminates any micro-gap.

With significantly reduced number of biological complications, the general health of the patients is improved.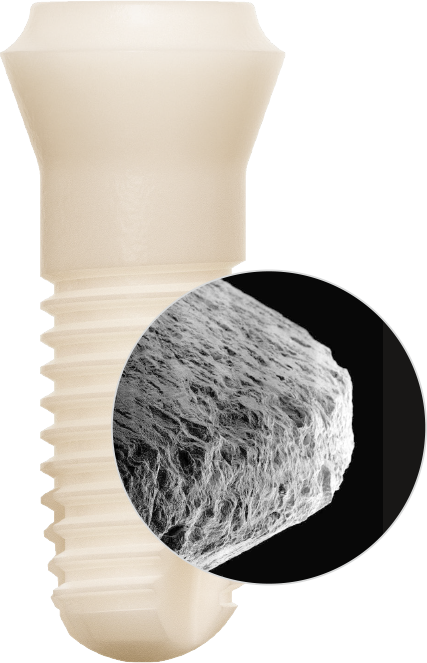 Photograph courtesy of Dr. Schüpbach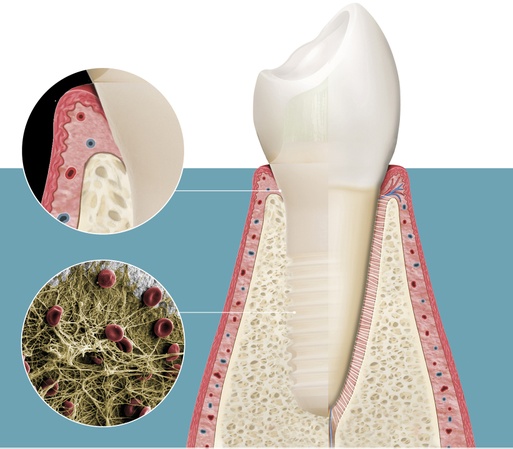 Photograph courtesy of Dr. Schüpbach
Bio-Integration
Bio-Integration is a complex combination of biological adaptation and dynamic mechanical performance.
With the high surface roughness on the endosseous part, the machined surface on the transmucosal part and the tissue level design, the Patent™ Dental Implant System is unique in implantology to have features and properties that achieve Bio-Integration.
Système d'implant dentaire Patent™
La zircone est le matériau de choix en dentisterie haut de gamme. La demande mondiale en faveur d'une santé durable a ouvert la voie aux implants céramiques biocompatibles qui ont l'apparence, la sensation et la fonction de dents naturelles. La nature esthétique et fonctionnelle des implants en céramique les rend très recherchés par les patients.

L'implant Tissue Level se compose uniquement de deux éléments : un implant en zircone Y-TZP de la couleur des dents et un inlay core en fibre de verre haute technologie.

Le système d'implants dentaires Patent™ marque une nouvelle ère de traitements implantaires fiables et esthétiques scientifiquement prouvés.

Patent™ Live
Ne manquez jamais un événement avec Patent™ Live. Accédez à tous nos événements à votre convenance et recevez des mises à jour constantes.
Zircon Medical - Master of Zirconia
We apply a patented production process that results in a unique, hydrophilic, and osteoconductive implant surface without process-induced micro-cracks.
The surface has proven to be hydrophilic and osteoconductive. Patent ™ Implants achieve a soft tissue seal that protects the bone and reduces marginal bone loss.
Together with leading scientists and a team of experts, we succeeded in mastering the complex process of manufacturing zirconia implants. This process is patented. From raw material assembly to milling and final packaging, the entire process takes place at our two production sites in Germany, ensuring 100% quality control.

To install this Web App in your iPhone/iPad press
and then Add to Home Screen.